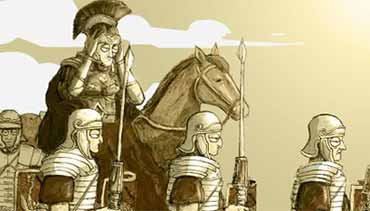 Contact us at acc-cori@le.ac.uk to find out how to access our free teaching resources and training on Life in the Roman World, as well as word roots, Latin, and ancient Greek.
Our materials are based on cutting-edge research and provide a complete scheme of work designed to address the Romans and local history content of the KS2 and KS3 national curriculum in History, as well providing cross-curricular opportunities with Art, English, DT, and Geography.
Our Life in the Roman World resources include
Information for teachers and suggested activities for each chapter of the book; an appendix to the document shows the national curriculum aims and content that are met by each task.
A PowerPoint presentation (with notes in presenter format) for each chapter, providing key primary and secondary sources for the suggested activities and 10 words per chapter for identification of Latin word roots
Links to useful online resources
A copy of the book Hoards, Hounds and Helmets, which provides further information on the nationally important Iron Age and Roman finds from Hallaton, Leicestershire
These are extracts from our KS2 resources
The programme is linked to the national curriculum and can be used to supplement the Cambridge Latin Course and the teaching of OCR's GCSE Classical Civilisation and GCSE Latin.
Life in the Roman World is based on the research of the School of Archaeology and Ancient History at Leicester, the excavations and publications of University of Leicester Archaeological Services (ULAS), and the collections of the Jewry Wall Museum Leicester and the Harborough Museum.
We are providing free classroom sets of the book to schools in Leicestershire and Rutland with the support of Classics for All and the University of Leicester. If you would like a set of books and free training, which explains how the book and resources can be used to support national curriculum subjects, please email the appropriate form
to acc-cori@le.ac.uk. The book can also be purchased via the University online shop.
Related classroom materials for Life in the Roman World
Additional resources are available for free download below, which include session plans, activities and worksheets which explore the culturally plural nature of the Roman world, as well as introducing Latin in the context of the archaeology of Roman Leicester.
Life in the Roman World: Ratae Corieltavorum (Leicester) for KS2-3
This document provides lesson plans for eight sessions, together with the research background for each topic:
Sessions 1-8: Teacher lesson plans and research background
Each lesson has an accompanying PPT (with notes in presenter view) and resources:
Session 1: Introduction (PowerPoint and resources)
Session 2: Ratae (PowerPoint and resources)
Session 3: Slaves (PowerPoint and resources)
Session 4: Curses (PowerPoint and resources)
Session 5: Death (PowerPoint and resources)
Session 6: Memorials (PowerPoint and resources)
Session 7: Army 1 (PowerPoint and resources)
Session 8: Army 2 (PowerPoint and resources)